Financial Freedom has more than one route.
Policy Engineer has partnered with leading FinTech platform MoneyGuide Pro to bring you MyBlocks. An advanced tool to help you start creating your own customized financial plan.
Click Now To Register and start your financial freedom Navigation! Once logged, start by completing the suggested MyBlocks featured below.

Financial Goal Setting

Retirement Income Forecasting

Budget & Expense Analysis

And more!
Start with these featured MyBlocks👇
Set a Goal
If you don't have goals, you are aimlessly drifting through the sea, leaving you feeling stranded.
What's your eta?
Check the inventory of your assets to get a better idea of your current probability of success.
The beauty of a navigation system is what it helps you avoid.
The greatest difference between a dynamic navigation system and a roadmap is its ability to adjust your directions as road conditions change.
Download this ebook, "Retirement Roadblocks, 7 Financial Risks To Avoid," so you can be alerted about which risk is up the road to financial freedom. By the end of this guide, you will be able to spot the inefficiencies in your financial planning, allowing you to adjust your route before you hit a roadblock.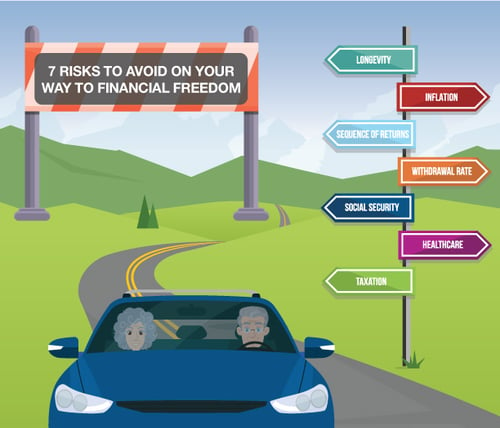 I want to know the 7 roadblocks